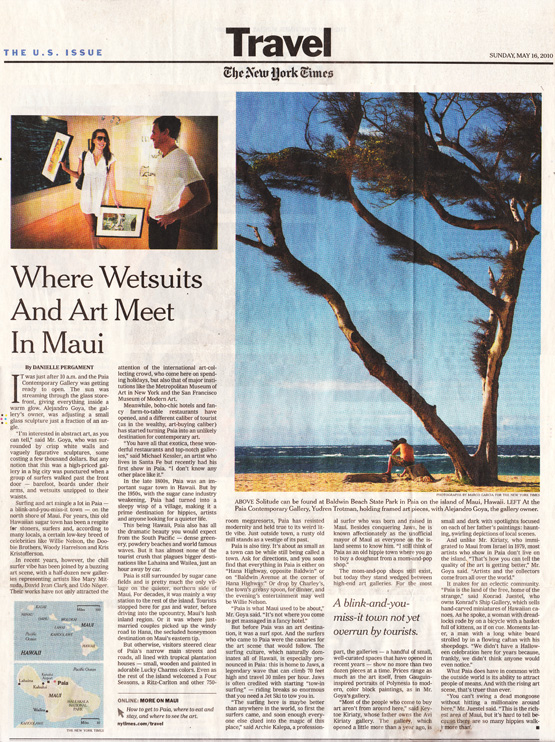 Where Wetsuits and Art Meet in Maui
By DANIELLE PERGAMENT
IT was just after 10 a.m. and the Paia Contemporary Gallery was getting ready to open. The sun was streaming through the glass storefront, giving everything inside a warm glow. Alejandro Goya, the gallery's owner, was adjusting a small glass sculpture just a fraction of an angle.
"I'm interested in abstract art, as you can tell," said Mr. Goya, who was surrounded by crisp white walls and vaguely figurative sculptures, some costing a few thousand dollars. But any notion that this was a high-priced gallery in a big city was punctured when a group of surfers walked past the front door — barefoot, boards under their arms, and wetsuits unzipped to their waists.
Surfing and art mingle a lot in Paia — a blink-and-you-miss-it town — on the north shore of Maui. For years, this old Hawaiian sugar town has been a respite for stoners, surfers and, according to many locals, a certain low-key breed of celebrities like Willie Nelson, the Doobie Brothers, Woody Harrelson and Kris Kristofferson.
In recent years, however, the chill surfer vibe has been joined by a buzzing art scene, with a half-dozen new galleries representing artists like Mary Mitsuda, David Ivan Clark and Udo Nöger. Their works have not only attracted the attention of the international art-collecting crowd, who come here on spending holidays, but also that of major institutions like the Metropolitan Museum of Art in New York and the San Francisco Museum of Modern Art.
Meanwhile, boho-chic hotels and fancy farm-to-table restaurants have opened, and a different caliber of tourist (as in the wealthy, art-buying caliber) has started turning Paia into an unlikely destination for contemporary art.
"You have all that exotica, these wonderful restaurants and top-notch galleries," said Michael Kessler, an artist who lives in Santa Fe but recently had his first show in Paia. "I don't know any other place like it."
---