Sharon Lindenfeld
Original Abstract Etchings
---
About The Artist
Etching artist Sharon Lindenfeld's awards include the Wolfenden Fine Arts Prize and the Fred. A Hillbruner Artists' Book Fellowship Award. Sharon Lindenfeld's abstract etching artwork has been featured in over 30 exhibitions in national galleries and public buildings; including shows with the Southern Graphics Conference, Chicago Printmakers Collaborative and the Hood Museum of Art [Hanover, NH].
Artist Statement
In my modern artwork, I push prints, particularly etchings, past their traditional limits by creating large scale, multi-panel abstract landscapes. They explore the construction of space, horizon and land—often times where the background and foreground integrate and spill over into each other. They examine the feelings of different spaces, including snowscapes, storms and the boundaries between earth and sky.
I love the process of abstract printmaking: the ability to make new and exciting kinds of marks, the role of the accidental, and the surprise end result when peeling off wet paper from the press bed. I feel a partnership with the press; it pushes the image into something unexpected. I draw imagery from Japanese woodcuts, Chinese watercolors, and the Sublime to create evocative and expansive spaces. Like Caspar David Friedrich, I place figure-like lines, creatures, and marks in the landscape to set up a relationship with the viewer.
In the end, much of the imagery comes from the physical process of printmaking itself. I work my plates intensely, scratching, heating, pouring, blistering, spraying, wiping and burnishing to make painterly, graphic, and physical marks. My screen prints involve partially washed out screens and experimental and misregistered CMYK color separations.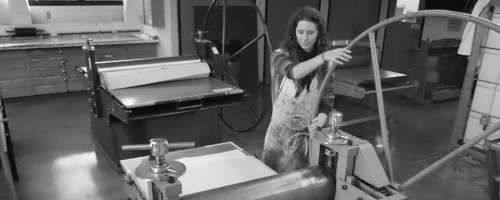 ---
Born
Torrance, CA
Resident
Chicago, IL
Education
BFA, Art Institute of Chicago
---
Recent events and exhibitions
2011 Ivy Tech John Waldron Arts Center  (Bloomington, IN) "Transitions of Life: A Multicultural Day of the Dead Exhibition"
2011  "American Youth Printmaking Exhibition," Liu Haisu Art Museum, Shanghai, China
2010 Second Annual Juried Show, Low Road Gallery  (Greencastle, IN)
2010 Sharon Lindenfeld, SoFA Gallery, Indiana University, Bloomington, IN
2010  MFA: DART, Printmaking, Sculpture, and Photography, IU School of Fine Art Student Shows
2009 Sharon Lindenfeld, Low Road Gallery, Greencastle, IN
2009 "Hand Made Prints: an exhibition of artist pulled multiples", Southern Graphics Conference, Evanston, IL
2008 Sharon Lindenfeld, Paia Contemporary Gallery (Paia, Maui, HI)
2008 Big Black and White Print Show, Chicago Printmakers Collaborative, Chicago, IL
2007 Spudnik Press Print Bazaar, Spudnik Press, Chicago, IL
2007 Sharon Lindenfeld, , Chicago Printmakers Collaborative, Chicago, IL
2007 November/December Holiday Show, Two Rivers Printmaking Studio, White River Junction, VT
2007 "A/V XPLO: Audio/Visual Explosion" Visual Art and Music Festival, Abbey Pub, Chicago, IL
2007 "Open & Closed" Summer Group Show #1, Contemporary Art Workshop, Chicago, IL
2007 "Business as Usual", Book Arts Gallery (University of the Arts, Philadelphia, PA
2007 "Art Saves the World: art MITZVAH," Mercury Cafe, Chicago, IL
2007 "Undergraduate Exhibition," School of the Art Institute of Chicago, Chicago, IL
2005 "MOMENTA" Juried Exhibition, Two Rivers Printmaking Studio, White River Junction, VT
2005 "Senior Majors Exhibition," Jaffe-Friede and Strauss Gallery, Dartmouth College, NH
2005 "Critical Faculties: Teaching with the Hood's Collections," Hood Museum of Art (Dartmouth College, NH