JESSICA DRENK with her abstract sculptures made with pencil have been receiving a lot of buzz this week through art blogs like VisualNews , Fubiz and TrendHunter. This, coming after the recent write up in the Dallas News that calls her abstract sculptures "…intelligent and elegant. It both blurs and parses the boundaries between natural and man-made things". To view current available abstract sculptures by Jessica Drenk, click the image below.
Jessica Drenk was the recipient of the International Sculptures Center's Outstanding Student Achievement in Contemporary Sculpture Award.  Her abstract sculptures and free standing 3d art have been pictured in Sculpture Magazine and seen in shows at the International Grounds for Sculpture in New Jersey, the Albuquerque Museum, the Tucson Museum of Art, the International Book Fair of Contemporary Creative Books in Marseilles, France, as well as in several national galleries. In 2009, Jessica Drenk received an Artist Project Grant from the Arizona Commission on the Arts, funding the installation of Archaeologica: A Museum of the Disposable at the Mesa Arts Center in Mesa, Arizona.  In 2010 her work was featured in shows at Conrad Wilde Gallery in Tucson, Catherine Person Gallery in Seattle, and Aqua Art Miami contemporary art fair in Miami Beach.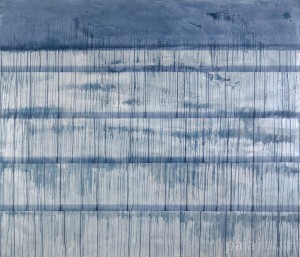 Oahu artist Mary Mitsuda has donated a beautiful 20 x 20 inch painting to the Book Trust auction that will be held on Maui later in the month. This is an amazing opportunity to support a great cause by collecting a wonderful Hawaii artist. Book Trust helps to bring books to low income school kids here in Hawaii and several other states. If you are interested in bidding on Mary Mitsuda's paintings, the auction will be held on Saturday, November 17th 2012. To sign up, or the read more information, click on the image of the available painting below…
Paia Contemporary Gallery's Winter Show is fast approaching. On December 15th 2012, we will be featuring new works by two incredible wall-sculpture artists, Pascal Pierme and Randall Reid, as well as the vibrant paintings of Scott Plear. We hope you will join us!
Lastly, a selection of new artwork has arrived to the gallery this week. Here is a sneak peak of the new pieces by Maui artists Brad Huck and Al Schwartz.
---