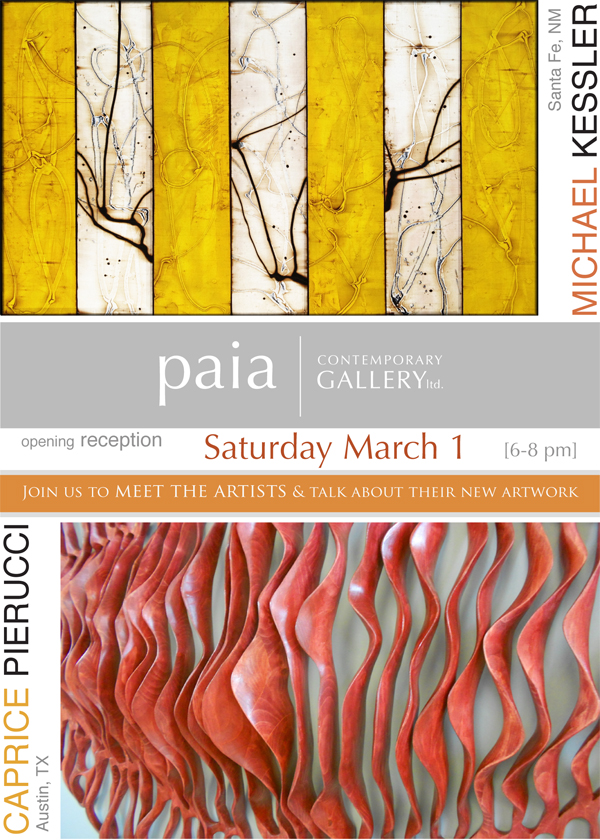 Abstract Wood Sculptures by CAPRICE PIERUCCI & Abstract Paintings by MICHAEL KESSLER
It is time to celebrate the holidays and our first 2014 ART OPENING RECEPTION & EXHIBITION!
We welcome you to join us on SATURDAY, MARCH 1 (6-8pm) to our Artist Reception. On this awaited social and festive evening, we are looking forward to unveiling with you the exiting new abstract mixed media sculptures by Texas artist CAPRICE PIERUCCI & the abstract paintings by Santa Fe artist MICHAEL KESSLER [Appetizers and drinks will be served at the courtyard].
Simultaneously, fashion designer Tamara Catz with her boutique next door to our gallery will be hosting her special eventing event with life music, fashion show and kombucha bar.
We look forward to seeing you at Paia Contemporary Gallery on this exciting evening. And if you are away, you may now view the artist's new artwork online at: Caprice Pierucci – Michael Kessler
[PS: For updates on our upcoming exhibition, follow us on Facebook & Twitter next week]
About The Artists
Caprice Pierucci received her MFA from the School of Visual Arts in New York City. She has been in over ninety exhibitions and has won numerous awards. Caprice Pierucci's work is also included in some prestigious collections such as Westinghouse, Morgan Stanley, Four Seasons and the Rockefeller collection. Caprice Pierucci has also exhibited at the DallasFine Arts Museum, Beeville Art Museum, Wichita Falls Museum and El Paso Museum of Art among others.
Michael Kessler was born in 1954 in Hanover, Pennsylvania and had his first art show in 1080. His art awards include the Rome Prize for Painting from the American Academy in Rome in 1990 and the Pollock/Krasner Award in Painting. His modern artwork has been widely exhibited in the US and abroad via international and national galleries, and has been featured in over 150 SOLO exhibitions since 1983. Michael Kessler's abstract paintings are widely collected and appear in over 20 museum collections in the US, including the Brooklyn Museum in New York, the Museum of Fine Arts in Boston, the Philadelphia Museum of Art, and the San Francisco Museum of Modern Art.
---