It's time for our 2012 Year-End Exhibition at Paia Contemporary Gallery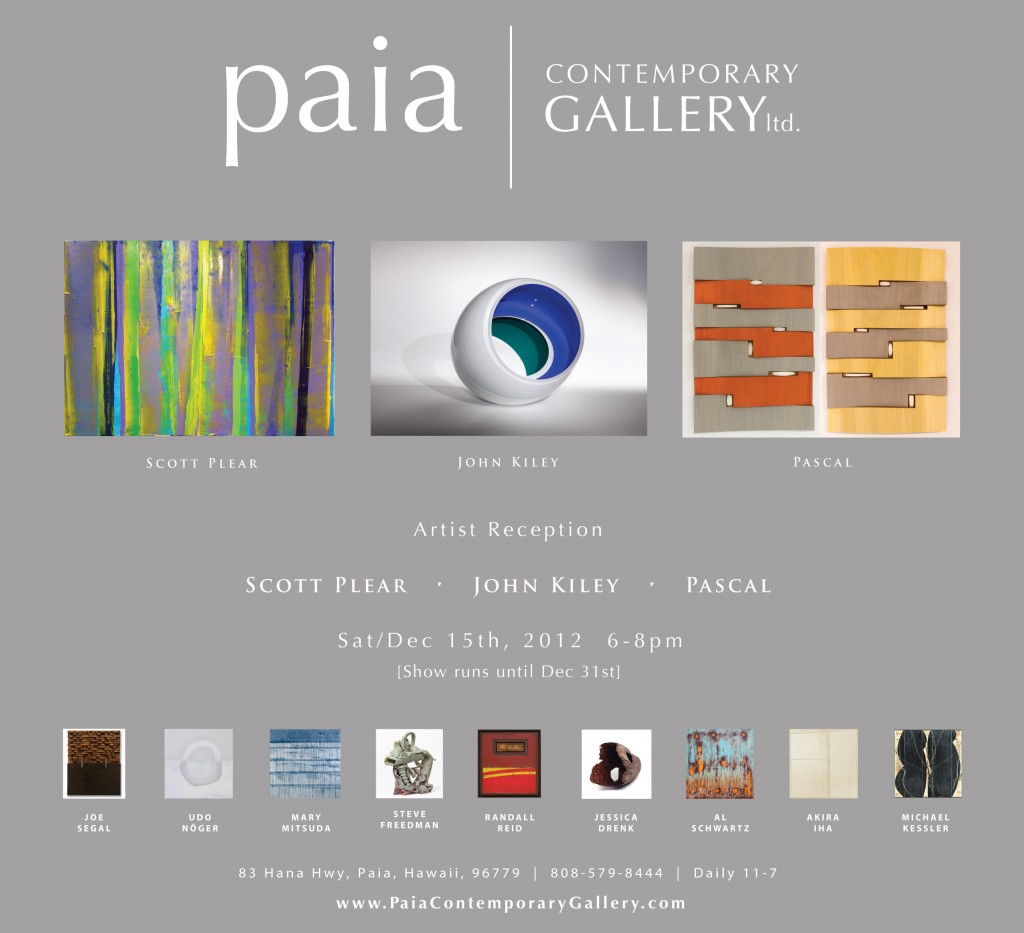 Join us, December 15th, from 6-8pm for our Artist Reception for to view our new collection of abstract glass sculptures, mixed media sculptures and abstract paintings.
Abstract Glass Sculptures by John Kiley
 (Seattle, WA)
John Kiley has been blowing glass professionally for over 20 years. His honors include an Artist Residency and the People's Choice Award from The Museum of Glass in Tacoma, "Best In Show" at Ohio State University's "Breakthrough Ideas In Global Glass" exhibition and scholarships from the Pilchuck Glass School and Haystack Mountain School of Crafts.  Since 2008, his abstract glass sculptures have been featured in over 20 national and international exhibitions. John Kiley's abstract glass sculptures reside in such collections as The Museum of Glass, Sir Elton John and the Seven Bridges Foundation.
Mixed Media Sculptor Pascal Pierme (France – Residence in Santa Fe, NM)
Pascal Pierme's contemporary wall sculptures and free standing 3d art, has been widely featured in over 150 exhibitions in both national galleries and internationally since 1990. His modern artwork is displayed in public, private, and corporate collections across the world, including Carol Burnett's private collection, Collogny City Hall of Switzerland, Mont Parnes Hotel & Casino of Greece, Marriott Hotel, and Pierre Cardin's residence [Cannes, France], Palais Bulles [France], City Hall [Collogny], Equifax World Headquarters, Active Health [New York].
Abstract Paintings by Scott Plear (BC, Canada)
Scott Plear has been creating abstract artwork for more than 35 years, exhibiting in Canada, the U.S. & the United Kingdom. Since 1986, Plear has been a faculty member in the Fine Arts Department, Langara College, serving terms as department chair and division chair during that time. He attended several Emma Lake Artists' Workshops from 1977 – 2000 and has completed several contemporary paintings as commissions for Bentall/Kennedy between 2007 and 2011. He was elected to the Royal Canadian Academy of Arts in 2004 in recognition for his extraordinary modern artwork.
---