Mary Mitsuda
Original Abstract Paintings
no images were found
---
About The Artist
Mary Mitsuda's awards include Artists of Hawaii at The Honolulu Museum of Art and the Reuben Tam Award for Painting. The Hawaii artist abstract art has been widely exhibited in several Hawaii galleries and abroad in over 150 exhibitions since 1992. Mary Mitsuda's abstract paintings reside in many public, private and corporate collections including the Four Seasons Wailea, Ritz Carlton, Hawaii State Foundation on Culture and the Arts, The Contemporary Museum, Bank of Hawaii and many more.
Artist Statement
"A quiet gaze turns the key." -MM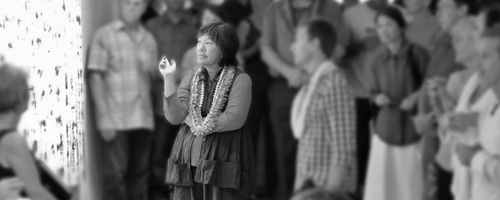 ---
Born
Honolulu, Hawaii
Resident
Honolulu, Hawaii
Education
BFA, University of Hawaii
---
Selected Collections
Four Seasons – Maui
Ritz-Carlton Maui
Hokua
Japan Airlines
Neiman Marcus
Hawaii State Foundation on Culture and the Arts
The Contemporary Museum
First Hawaii Bank
Nauru Towers/Hawaiki
City and County of Honolulu
Persis Corporation
Hawaii Medical Association
Pacific Bridge
Tokyo Breezebay Hotel
Izutani Corporation
Bank of Hawaii, private collections.
Selected Exhibitions, Publications, Commissions
2013 Mary Mitsuda, Paia Contemporary Gallery, Maui, Hawaii, USA
2012 Mary Mitsuda, Paia Contemporary Gallery, Maui, Hawaii, USA
2012 Hawai'i Abstraction: The Honolulu Museum of Art, Honolulu, Hawaii, USA
2011 Mary Mitsuda, Paia Contemporary Gallery, Maui, Hawaii, USA
2009 Dialogues of Abstraction: Mary Mitsuda/James Kuroda; Japanese Cultural Center of Hawaii , Honolulu [ Feb.].
2009 Aloha Ho'omaluhia: 25 Years; group invitational; Gallery I'olani, Windward Community College, HI [April].
2008 The Landscape, four person show; Cedar Street Galleries, Honolulu.
2008 Benchmark: 20 Years – The Contemporary Museum; group invitational celebrating the 20th anniversary of The Contemporary Museum, Honolulu
2008 30th Annual Commitment to Excellence/ Hawaii Japanese Chamber of Commerce; invited artist, Honolulu
2008 Academy of Arts/Academy Arts Center
2007 Recent Work: Kelly Sueda & Mary Mitsuda; Nuuanu Gallery, Honolulu
2006 Connect/Disconnect; invitational; Patricia Cameron Fine Arts, Seattle
2006 9th International Shoebox Sculpture Exhibition; invited artist; University of Hawaii Art Gallery
2006 Seven; Academy Arts Center at Linekon, Honolulu
2006 Aloha Ho'omaluhia; invitational; Ho'omaluhia Botanical Gardens
2006 Three Perspectives: Plein Air Landscapes Naughton, Mitsuda, Sussman]; Louis Pohl Gallery, Honolulu
2006 West Toward the East: Contempoary Art from the Pacific Rim; City of Brea Art Gallery, Brea, California
2006 The Artists Group; Academy Arts Center at Linekona
2006 Mary Mitsuda. Concealed/ Revealeld; Kirsch Gallery, Punahou School, Honolulu
2006 I0th Anniversary Exhibition; The Contemporary Museum at First Hawaiian Center, Honolulu
2005 Mary Mitsuda Recent Work [solo]; Hawaii Pacific University Art Gallery [October 2005]
2005 "Thirteen:13 Years of Painting at the Koa Gallery; Koa Gallery, Kapiolani Community College
2005 Commitment to Excellence, invited artist, juror; Honolulu Academy of Arts/Linekona
2005 Seven – II, The Contemporary Cafe/The Contemporary Museum, Honolulu
2005 Mary Mitsuda Paintings – Lori Uyehara • Sculpture, Koa Gallery, Kapiolani Community College, Honolulu
2004 Kuilima Kakou: Hawaii-Japan Joint Exhibition [invited artist]; Honolulu
2004 Commitment to Excellence, [invitational & juried] invited artist; Honolulu Academy of Arts/Linekona
2004 Lucky, [group show] Workspace Gallery, Honolulu
2003 Recent Work; solo; Studio 1 Gallery, Honolulu
2003 Nikakai Japan; invitated Hawaii artist; Tokyo Metropolitan Art Museum
2003 Commitment to Excellence, invited artist,Silver Anniversary, HJCC; Honolulu Academy of Arts- Linekona
2002 Mary Mitsuda – The Contemporary Museum at First Hawaiian Center, Honolulu
2002 Mary Mitsuda – Honolulu Academy of Arts/Arts Center – Linekona
2002 Hawaii State Art Museum; "Fall included in inaugural exhibition
2002 Honolulu Printmakers Annual , juried , Honolulu Academy of Arts/Arts Center-Linekona
2002 Concepts VII: The Artists' Group 7th Biennial Portfollio Exhibition; Honolulu Academy of Arts- Linekona
2000 Drawing 2000: Stretching the Point, invitational drawing show;; University of Hawaii-Manoa Art Gallery
1999 Concepts VI:The Artists' Group 6th Biennial Portfollio Exhibition; Honolulu Academy of Arts-Linekona
1999 The Contemporary Museum Biennial 1999; invitational; Honolulu
1999 Contemporary Artists of Hawaii; invited artist, Japanese Cultural Center of Hawaii, Honolulu
1999 Contemporary Coordinates: Painting in Hawai'i, invited artist; Hui No'eau Visual
1999 Arts Center, Makawao, Maui, Hawaii
1998 The Contemporary Artists of Hawaii 1998 ; invitational; Japanese Cultural Center of Hawaii
1997 Concepts V; The Artists' Group 5th Biennial Portfolio Exhibition; Honolulu Academy of Arts – Linekona
1995 Two Paintings, Gallery at Ward Centre, Honolulu
1994 5th International Shoebox Sculpture Exhibition; invitational; The Art Gallery, University of Hawaii-
1995 Manoa; "Seed III" selected for international tour
1995 Concepts IV: Artists' Group 4th Biennial Exhibition; Honolulu Academy of Arts- Linekona
1993 Intuition/Abstraction; invited artist; The Contemporary Museum/ The Honolulu Advertiser Gallery
1993 National Invitational Exhibition/ Works on Paper; invited; Campus Center Gallery, University of Hawaii- Hilo
1992 2×4/II ; invited artist; curated by Hiroki Morinoue; Hui Noeau, Makawao, Maui, Hawaii
1992 Artists of Hawaii 1992; juried; Honolulu Academy of Arts; Reuben Tam Award for Painting