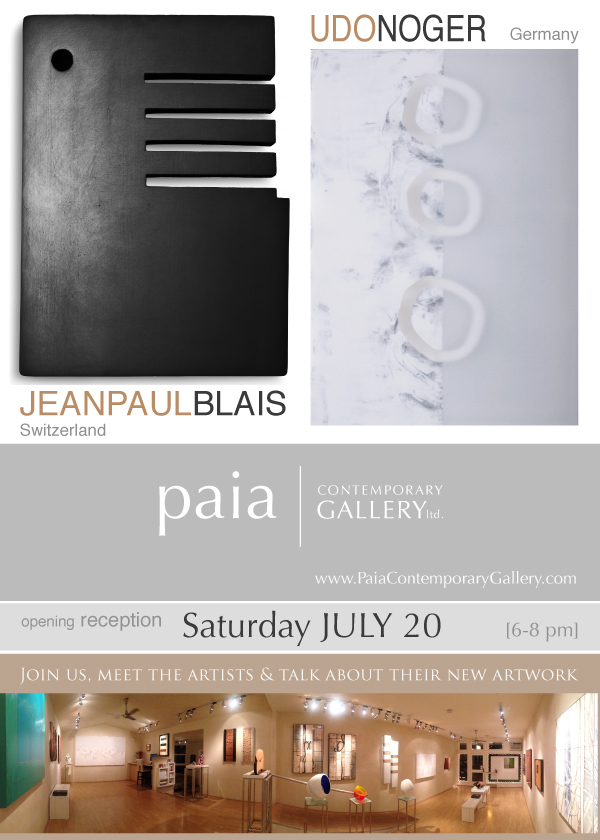 It's time for our second Art Opening Exhibition of 2013 and we are welcoming you to join us on the evening of SATURDAY, JULY 20th (6-8pm) for this much awaited event.
On that evening we are looking forward to unveiling the exciting new abstract wood sculptures by Swiss sculptor Jean Paul Blais and mixed media paintings by artist Udo Noger.
Paia Contemporary gallery has been closely collaborating over the past three months with painter Udo Noger. The outcome is a stunning art collection composed of 17 abstract paintings.
The formation of Jean Paul Blais abstract wood sculpture collection for this coming exhibition started back in 2010. Patience and perseverance finally paid off and we are very excited to introduce the acclaimed artist's work for the first time in the United States.
For updates on our Paia art exhibition this coming JULY 20th, follow us on Facebook and Twitter. Thank you, and we look forward to seeing you at Paia Contemporary Gallery this coming Saturday!
ABOUT JEAN PAUL BLAIS  –  Since 1997, Jean Paul Blais' abstract wood sculptures have been featured in a number of international exhibitions including Switzerland, Belgium, France and USA. His work resides in many private and public collections including the Ville de Gland and Fondation de Corse. Born in Tunisia, the smallest country of northern Africa, Jean Paul has now lived and worked in Switzerland for over 30 years.
ABOUT UDO NOGER  –  Udo Noger's abstract contemporary paintings have been featured in hundreds of solo and group exhibitions world wide. His modern artwork resides in such prestigious public collections as the Metropolitan Museum of Art (New York), The Art Institute of Chicago, Daum Museum of Contemporary Art and the private collections of Elton John, Bruce Springsteen, Halle Berry, Axl Rose and Sylvester Stallone to name a few.
---