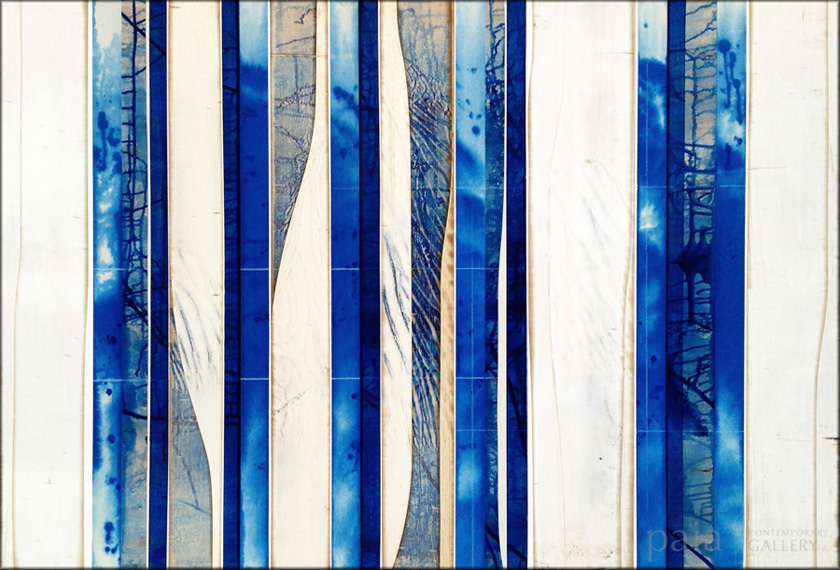 Pictured above, "Hydrolapis 11″, is one of seven new abstract paintings from artist Michael Kessler.  These nature inspired abstractions are created using "as many as 50 micro-thin layers of translucent and transparent acrylics".  The result is an astonishingly beautiful and balanced work of art that is both playful and sophisticated.  Michael Kessler paints a variety of wooden panels to fit any size space or collection; small 15×15 inch paintings, up to large multi-panel centerpieces for big wall spaces.  Click here to view our complete collection of Michael Kessler paintings.
If you have visited Paia Contemporary Gallery over the past couple years, you have likely experienced the work of German artist, Udo Noger.  This month, Udo delivered several new pieces while he was visiting our gallery in Hawaii.  Pictured above are four of the 10 new abstract paintings created on paper, oil and crayon.  Each piece is beautifully framed and available individually or as a set.  To see more from artist Udo Noger, click here.  Questions or inquiries for these pieces can be made through our contact page.
Paia Contemporary Gallery features seven abstract artists from the Hawaiian islands.  Mary Mitsuda comes to us from our neighbor island of Oahu and has become a favorite of ours  since we began showing her work in 2009.  Recently, she flew over from Oahu to tale part in our first exhibition of 2013 and brought with her several new abstract paintings for the show.  Pictured above is a beautiful new diptych from Mary.  The pieces, titled "Discovery" and "Trail" are 36 x 36 inch wooden panels with layered acrylics.  This piece and several more are new to the gallery this month and available to view online or in person at our gallery in Paia, Hawaii.
Lastly, we would like to thank our artists Michael Kessler and Mary Mitsuda for participating in our recent Spring Exhibition here at Paia Contemporary Gallery!  We would also like to share our thanks with everyone who came to the opening reception!  Mahalo for supporting the arts, our artists and our Paia Contemporary Gallery.  It is a great joy to be celebrating the arts with you all!  Aloha.
Written by: Matthew Nall, Co-Curator at Paia Contemporary Gallery
Contact: alejandro@paiacontempoaraygallery.com
---