On this Spring of 2013, Paia Contemporary Gallery is featuring abstract artists Mary Mitsuda and Michael Kessler. The  Opening Reception for their new work is on March 2nd (6-8pm). Please join us for a fantastic event!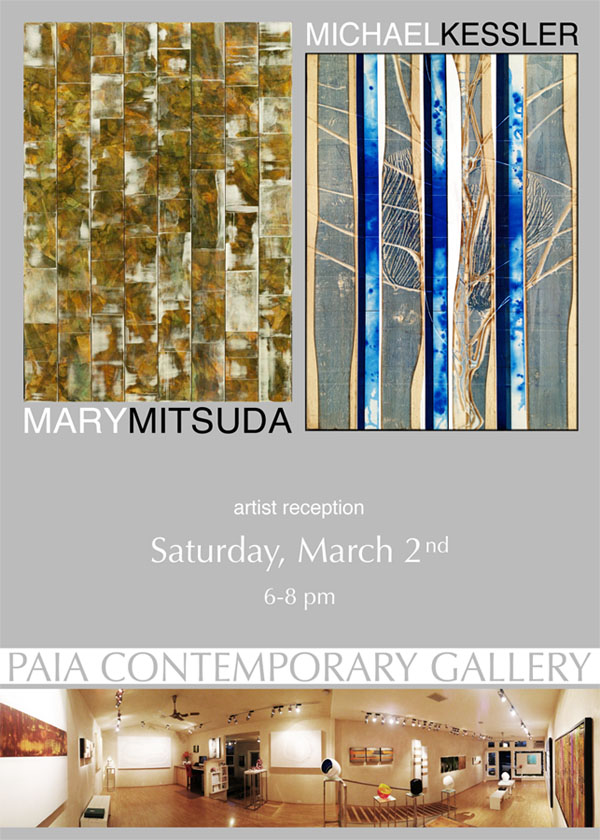 MARY MITSUDA's awards include 'Artists of Hawaii' (Honolulu Academy of Arts) and the 'Reuben Tam Award' for Painting. Her modern artwork has been widely exhibited via national galleries and abroad, and has been featured in over 150 exhibitions since 1992. Mary Mitsuda's contemporary paintings reside in many public, private and corporate collections including the Four Seasons Wailea, Ritz Carlton, Hawaii State Foundation on Culture and the Arts, The Contemporary Museum, Bank of Hawaii and many more.
MICHAEL KESSLER 's abstract art awards include the Rome Prize for Painting from the American Academy in Rome in 1990, and a Pollock/Krasner Award in Painting in 1992. Kessler's modern artwork has been widely exhibited in the US and abroad via international and national galleries, and has been featured in over 150 SOLO exhibitions since 1983. His abstract contemporary paintings are widely collected and appear in over 20 museum collections in the US, including the Brooklyn Museum in New York, the Museum of Fine Arts in Boston, the Philadelphia Museum of Art, and the San Francisco Museum of Modern Art.
---